Order Premium Waste Services & Products
Porta Potties for Special Events
Our portable toilets are the perfect solution for your next special event, race, wedding, festival or large group gathering. We provide clean and reliable porta potties that provide a fresh experience for your guests.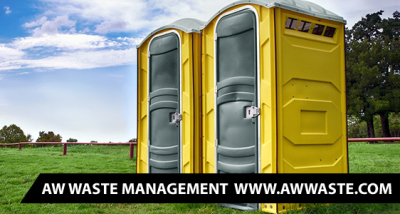 Portable Toilets
Our portable toilets are the perfect solution for a special event or on a construction site. With a wide variety of construction toilets, event toilets, luxury toilets and restrooms trailers, you are sure to find the solution that is right for you.
Long term rentals are serviced weekly and weekend events are taken care of as soon as you are finished. We can provide you with clean, convenient liquid waste disposal for any budget.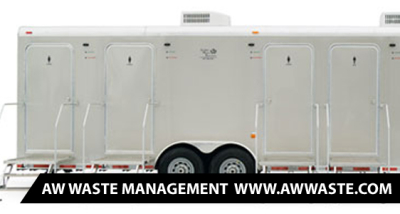 Restroom Trailers
AW Waste Management of Akron partners with pre-screened, local providers to deliver the most affordable rates and highest quality. Our variety of restroom trailers means you can find the perfect size and amenities at the right price. AW Waste Management of Akron offers waste management for any project. With over 25 years of experience, we'll meet your needs for portable toilets, dumpsters and event boxes, showers and sinks, and restroom trailers!
Portable Sanitation Solutions
We offer individual restrooms with flushing units and sinks as well as hand sanitizers and hand wash stations to keep your event or job site clear of waste. Our portable sanitation units will be delivered with all accessories and features. Planning an event? Renting for the first time? Need to rent a permanent solution for an ongoing site? Let us guide you through the process.
[trustbox box="starter"]
Junk Removal & Cleanout Services
AW Waste Management of Akron provides quality junk removal services in Akron, OH for all your junk removal needs. We specialize in home and office cleanouts of all sizes. Cleaning out your garage or attic and have old furniture, appliances, beds and mattresses or broken lawn equipment that needs to be removed? We can help. Most junk items fall under our simple, flat rate pricing that starts as low as $37.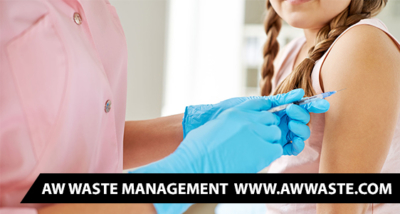 Medical Waste Removal
We know the importance of protecting your family and friends, so we provide medical waste removal services for both homes and businesses. With so many people requiring the daily use of sharps and syringes for the treatment of medical conditions, it's more important than ever to have safe, legal disposal options at affordable prices. Contact us today for residential and commercial medical waste removal services.
Temporary Fencing & Barricade Rentals
We offer the best fencing and barricade rental prices in Akron, OH. Our fence panels, temporary chain link fencing, and blackout screens are perfect for construction jobs and remodel projects. The barricades with lights and crowd control barricades we offer provide visibility and safety for both special events and job sites. Ordering is quick and secure 24/7. Get your quote today!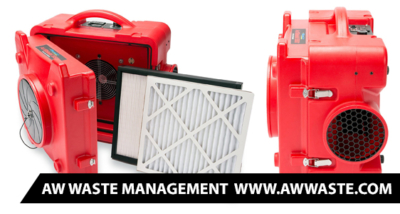 HEPA Air Scrubbers
AW Waste Management of Akron provides comprehensive equipment rental solutions for all of your immediate disaster, water damage and fire restoration needs. Our powerful HEPA Air Scrubbers are designed for maximum air filtration to quickly and effectively remove contaminants such as smoke and smoke odors, drywall dust, dirt, asbestos fibers, metal fumes, paint and varnish odors, as well as bacteria and gases.
Our portable air scrubbers are ideal for homeowners and contractors dealing with the effects of fire, smoke or water damage.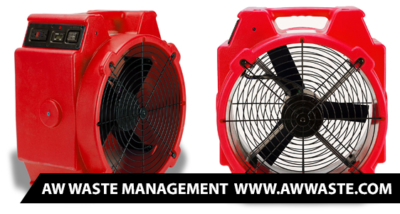 High Velocity Dry Out Fans
Hurricanes, floods, burst plumbing and similar disasters can leave quite a mess on your property. The longer the water lingers, the more severe the damage will get. Red Sky Rentals' High Velocity Dry Out Fans can safely and effectively circulate air to to optimize drying time.
Our powerful High Velocity Dry Out Fans are designed to move air quickly in stagnant areas to decreasing drying time. Our fans are great for keeping warehouses and other workspaces cool in hot summer weather.
Guaranteed Best Prices
Shop our prices against these Akron, OH portable toilet providers:
Waste Management, Republic Services, United Site Services, Waste Pro, Rent-A-Jon, Potty Pros, Mr. John, Callahead, Rumpke, Advanced Disposal, Waste Connections, Casella Waste, Waste Industries, Progressive Waste Solutions, Rock-Tenn, WCI Waste, Hoving Recycling & Disposal, A Co Inc, A Royal Flush, Enviroclean, Tidy Toilets, A Modern Sanitation, A&A Portables, Anderson Rentals, Pit Stop, Chem-Can Services, Blu Jon Portables, Right Way Disposal, American Marborg
Dependable, Quality Service
We have completed projects for the following contractors:
DR Horton, Habitat for Humanity, Meritage Homes Corp, Beazer Homes, The Ryland Group, Hovnanian Enterprises, Drees Homes, Pulte Homes, KB Homes, NVR, Lennar, Balfour Beatty US, Jacobs, Haskell, Whiting-Turner Contracting, Archer Western, Superior Construction, Skanska USA, Aecom, PCL Construction Enterprises, Kiewit Corp, CB&I, The Turner Corp, Fluor Corp, Trump Inc.