To answer the question, we compare buying a 3 cubic yard Bagster from Waste Management with renting a 10yd -40yd cubic yard dumpster from a local dumpster service.  Please check-out and compair our prices with other Dumpster Rental Providers that advertise with online Dumpster Referral Diretiores companies like HomeTimeDumpsterRrental.com – MI  & RentAll.com – CA.
Call Today 

888-204-4728
Nationwide Provider
Services all 50 States
This is not an apples to apples comparison because a 10-yard roll off dumpster holds 3X more debris than The Bagster. But for many parts of the country, a 10 yard roll-off dumpster is the smallest temporary dumpster available to rent, so this comparison represents the real life options available to most people with a smaller disposal need.
How it Works
Buy a Bagster:
The Bagster from Waste Managment is a small, portable, 3 cubic yard bag made of tough, woven material. It's for single use, and you must first purchase the bag. The Bagster is available at home improvement stores and online. After you fill it up, you schedule to have it picked up by Waste Management (WM).
WM's Bagster is the most popular dumpster bag, but it's not the only bag out there. There are a few small competitors available in limited areas, such as the Gorilla Dumpster Bag.
Placement
Bagster: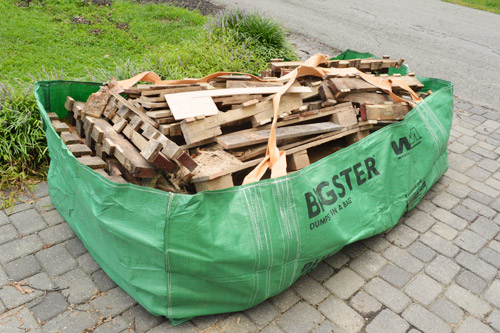 Just because the dumpster bag is small and portable doesn't mean you can place the bag anywhere. If you place the bag in your side yard or backyard, away from truck entrance points, WM won't be able to snag it with their truck and crane. Bagster placement is generally in your driveway or on your front lawn toward the road.
In order for Waste Management to be able to pick the bag up, there must be a minimum of 18 ft. of overhead clearance. In addition, the crane cannot extend outward beyond 16 ft. For trucks to fit, alleyways and driveways must be at least 12 ft. wide. (Note: Trucks cannot turn into a driveway from an alleyway.)
Of course, leaving a Bagster on your lawn for days or weeks will kill the grass underneath, so generally a driveway is the best option, if available.
10 yard dumpster:
Dumpster placement is generally on your driveway, parking lot, or possibly in an alley or on the street. Some cities prohibit dumpsters on the street or require a permit. Ask your dumpster service for advice.
Roll-off dumpsters are generally 8 feet wide and the trucks that pick up these containers are a similar width. If available, driveway placement is generally preferred. If placing near the garage, be sure the hauler leaves enough room for your dumpster door to swing open and your garage to be accessible. Discuss dumpster placement with your hauler.
Cost Considerations
3 cubic yard Bagster:
The Bagster bag itself costs roughly $30, and the purchase price is relatively constant throughout the country. The larger cost, however, is the cost of pick-up. WM's price to pick up the bags varies greatly from place-to-place.
For most areas, the cost of Bagster pick-up ranges from $119 to $199 per pick-up, but cost varies significantly. On the extreme high side is New York City, where it costs $307 to pick up your first Bagster ($285.25/bag for each additional bag).
Bagster price range (including purchase and pickup): $140 to $340
10 cubic yard dumpster:
Commercial Dumpsters
Affordable front loading dumpsters are ideal for any restaurant, small business and project. They are fully contained, clean and odor free, and can be loaded from the top or either side.
Commercial dumpsters are available vary in size from 2 to 8 yards and can be used for either recycling or garbage. These are useful restaurants, hospitals, apartments, grocery stores and many others businesses.
Roll Off Dumpsters
Our low-cost roll off container dumpsters are ideal for all varieties of home renovation, commercial construction, or landscaping project. From 10 yards to 40 yards, roll off dumpsters can take care of any project you have in mind.
Simply order a container, we will deliver to you on-site, you can fill it up whenever is convenient, and then we will come back and pick it up!
Portable Toilets
Our portable toilets are the perfect solution for a special event or on a construction site. With a wide variety of construction toilets, event toilets, luxury toilets and restrooms trailers, you are sure to find the solution that is right for you.
Long term rentals are serviced weekly and weekend events are taken care of as soon as you are finished. We can provide you with clean, convenient liquid waste disposal for any budget.
Compactors
Self-contained compactors are a perfect solution for large or small spaces with high garbage volume. These breakaway compactors reduce trash to one fourth the original size. Perfect for all types of waste.
We offer breakaway, self contained and front load compactors. Let our experts help you determine the right compactor for your needs.
Curbside Collection
AW Waste services all of our dumpsters, compactors and portable toilets through a partnership with Together Waste. From monthly, to weekly, to even daily pickup, you'll find our service rates to be fair and affordable. And you'll find our service experience to be exceptional!
It is important to have a clean, sanitary environment on site and by partnering with us, we can make that happen for you.